What happens when you don't innovate? Well simply put, nothing good happens.
It was his last-ditch effort to salvage what he had built up over years. Roger was a small business owner who had owned a popular bookstore. With the rise of the internet and with dramatic shifts in consumer behaviors, let alone the brick and mortar bookstore model in itself, Roger was tired, stating that he didn't have another innovation in him to keep the business going. The reason for our meeting, was that he wanted to sell.
Roger is not alone, and this is not something relegated to just small business either, to remain relevant in this day and age, one must innovate. And, it's not about simply innovating for the sake of innovation, but rather where and how you innovate that matters most.
What Happened To Sears?
Take for instance the news of historic brick and mortar retailer Sears and their seemingly never-ending downward spiral. Many experts have said that it was in their failure to innovate not only in digital, but also the in-store experience to best meet the needs of today's experiential focused consumer, that has led them to this place, which, at the time of writing this article, is in bankruptcy and set to close even more stores.
Did you know that Sears has only experienced one positive quarter in ten years? How does anyone even begin to innovate when you're just piling up loss after loss? For many leaders, it's not a matter of innovation, it's a matter of survival. Meanwhile, everyone else just passes them by. It was George Washington who once said, "The reflection upon my situation and that of this army produces many an uneasy hour when all around me are wrapped in sleep. Few people know the predicament we are in." With quarter after quarter of loss, it is only a matter of time that the few, become many.
When A Business Loses Their Identity
Sadly, one of the first things that goes when the downward spiral begins is your identity. Although, truth be told, it's the loss of identity that ultimately is what led many businesses here in the first place, and this of course leads us back to our question, what happened to Sears? Often times, in making a trip through one of their many stores over the past few years, one would find at the very least, three things that would tell anyone everything they needed to know about where these stores were headed, and those three things were:
A store experience that was atrophied
Didn't look or feel clean
Randomized inventory seemingly everywhere
Or simply put, loss of identity.
What Specialty Retailers Offered That Sears Didn't
Sears, who are you anymore? Long known for being a store that virtually carried everything for everyone, the chain also began to take hits from specialty retailers from every angle. It used to be if you wanted electronics, you'd go to Sears. Then along came Best Buy who offered a much more relevant and quite frankly a much better experience which further met the needs for today's retail consumer. In this, they offered a wider selection, better merchandising, and even lower prices. The same could also apply to home improvement and the impact of retailers like Home Depot and Lowe's. All of this, chipped away at Sears.
Not to mention, the decline of malls, and time-starved consumers who are looking for a better reason to travel to and shop in person. There's also no question the effect Amazon has had on many of retailers with their customer obsession model. Staying relevant in an Amazon world is a discussion all in itself.
Where Is Retail Going?
Recent trends for retailers have shown that they will seek to realign their businesses to further meet the desires and needs of the consumers, who are not as driven as they had been previously to simply acquire more stuff, but rather instead, a deeper want to have more experiences. To succeed in today's market, businesses will need to work towards giving them the very experiences they are looking for.
And, to that point, and specifically with those with physical storefronts, retailers will need to find ways to provide incentives to draw shoppers back into their stores. Why? Because these shoppers are by and large spending a much higher percentage of their disposable income online. But this does not mean they want to wait for shipment, either. Consumers also have begun to expect that all of the top stores are omnichannel. In this, logistics is a huge deal in ensuring that the retailer has the ability to consistently, efficiently and painlessly deliver their products in a seamless manner. For many, the idea of click and collect is not just a hope, but fast becoming an expectation.
It's Hard To Go Places, When Saddled In Debt
You can't invest in the future if you are constantly selling off what you have, just so that you can pay your debt. Simply put, one cannot innovate if there is no cash to invest in the future. If you are growing, positive growth breeds investment and with this, often times, will come an infusion of cash that will allow one to invest in the future and to therefore innovate in key areas like digital and the in-store experience.
But when you are not growing and saddled in debt, as Sears had been, it's only a matter of time before one begins to seek survival by selling off parts of the company to raise cash. And what did I say earlier, "meanwhile, everyone else just passes them by." And that they did. I want to caution you though. It is not just about cash infusion. For, it's one thing to raise the cash, it's entirely another thing to then invest that cash appropriately, executing it effectively, and then stewarding the investment to sustainability and even further growth and profitability.
Whatever Happened To Roger?
After seeking to find someone to buy his bookstore, and coming up short, Roger ended up closing the doors to his business. In time, nobody seemed to notice they were closed. Such is the progression for businesses that run their course. Would anyone notice if your business no longer existed? That's a hard question, but a necessary one.
What's Happening To Sears?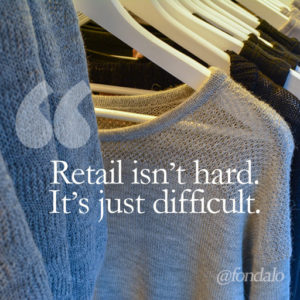 After announcing the closure of an additional 80 more stores in the spring of 2019, the 126-year-old retailer's time might just be borrowed time. Being forced into bankruptcy in the fall of 2018 with a reported $5.6 billion in outstanding debt, the company's chairman Eddie Lampert, just won a bankruptcy auction for Sears Holdings Corporation with a $5.2 billion takeover bid. The result, at least for now, is that Sears avoids total shutdown and will keep 400 stores open. That said, without innovation, isn't borrowed time just that, borrowed? Only time will tell. But without innovation, will it even matter?
A wise friend once said, "Retail isn't hard. It's just difficult." And so, it is, especially when you grow tired of change, or in the case of Sears, just plain fail to adapt, pivot and innovate.